Regular price
Sale price
$2.95 USD
Unit price
per
Sale
Sold out
Elevate your garden with the vibrant colors and delicious flavors of Early Prolific Straight Neck Squash. If you're looking for a versatile, easy-to-grow vegetable to kickstart your gardening season, look no further. Our Early Prolific Straight Neck Squash Seeds are your ticket to a thriving garden and a bounty of fresh, homegrown produce.
Why Choose Early Prolific Straight Neck Squash Seeds?
1. Early Harvest: As the name suggests, these seeds yield squash with an impressively early maturity date. You can expect to enjoy your first harvest in as little as 50 days, making it perfect for gardeners eager to taste the fruits of their labor sooner.
2. Abundant Yields: Prepare for a prolific garden! Early Prolific Straight Neck Squash plants are known for their prolific production. These plants consistently produce an abundance of bright, golden-yellow squash that you can enjoy all season long.
3. Exceptional Flavor: Early Prolific Straight Neck Squash has a rich, buttery flavor that's perfect for a variety of culinary creations. From grilling to sautéing, these squashes pair well with a wide range of dishes.
4. Space-Saving: With their compact growth habit, these squash plants are well-suited for smaller gardens, raised beds, and even containers. 
5. Disease Resistance: Our heirloom seeds are carefully selected for their natural resistance to common squash diseases, ensuring a healthier and more productive garden.
6. Versatile Cooking: Whether you're roasting, frying, or incorporating them into your favorite recipes, Early Prolific Straight Neck Squash adds a touch of culinary delight to your table. From classic side dishes to innovative culinary creations, these squashes are a must-have for your kitchen.
7. Kid-Friendly: If you have picky eaters at home, these mild and buttery squashes are an excellent choice. They're often a hit with kids and a fantastic way to introduce fresh garden produce into their diets.
How to Grow Early Prolific Straight Neck Squash:
Plant seeds in well-draining soil in full sun when the danger of frost has passed.
Provide regular watering, keeping the soil consistently moist.
Space plants according to their growth habit, typically about 18-24 inches apart.
Harvest squash when they're young and tender, around 4-6 inches in length, for the best flavor and texture.
Seed Type: Heirloom

Heirloom seeds are seeds that are passed down from generation to generation, all the while maintaining the attributes of the parent plant.
Seed Count: Approx. 30-50 Seeds
Share
View full details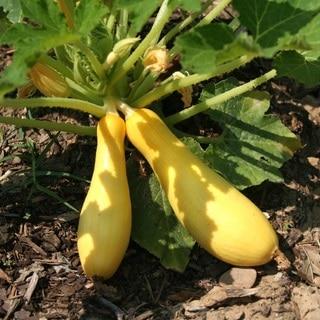 Free Shipping on Orders of $35 or More!

Spend $35 or more and get FREE shipping!

Quality Guaranteed

If you're not 100% satisfied with your purchase, contact us and we'll make it right!